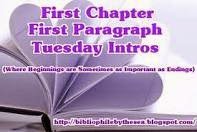 Right now I'm focusing on my Maisie Dobbs book as it's a library book but as soon as I'm done with it I'll go back to the one. In the meantime, this is perfect for a First Chapter First Paragraph Tuesday Intros hosted by Diane at Bibliophile by the Sea.
"In hindsight, I should have known right away that something wasn't quite right. The jarring noise in the middle of the night, the open window, the empty bed. Later, I blamed a whole slew of things for my nonchalance, everything from a headache to fatigue, down to arrant stupidity. But still. I should have known right t away that something wasn't right."
Don't You Cry by Mary Kubica
So I like I said, I'm definitely going back to this book because what I've read so far I've enjoyed. What do you think? This title will be released in a couple of weeks.
Mary Kubica has written a couple of other thrillers that have received some good praise. Have you read any of her other books? What did you think?