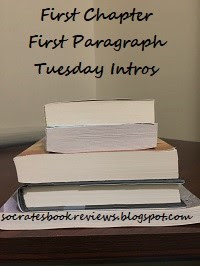 It's time for another, First Chapter, First Paragraph Tuesday Intros. Thank you to Yvonne, from Socrates' Book Reviews who hosts this meme. As a reminder this is your chance to post a bit from a book that you are reading or planning to read. My entry comes from a book I'm planning to start this week.
"The flash projected the outline of the hanged man onto the wall. He hung motionless from a light fixture in the center of the room, and as the photographer moved around him, taking pictures, the flashes threw the silhouette onto a succession of paintings, glass cabinets full of porcelain, shelves of books, open curtains framing great windows beyond with the rain was falling."
The Club Dumas by Arturo Pérez-Reverte, Translated by Sonia Soto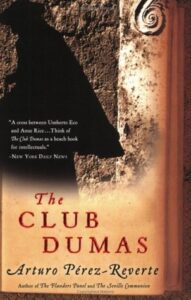 What is going on right? I know I definitely want to know who this hanged man was
I've had this book on my shelves for a long time and thought it was time to check it out. The story is about Lucas Corso, a book detective who is hired to hunt down rare editions for wealthy patron. From then sound of this entry, seems like it can be a dangerous job.
This book also happens to be my selection for Spanish Lit Month. I'm a bit late getting started but as the event goes into next month I think I'm good.
Have you read this book? Would you read it after that intro? We watched The Ninth Gate, which is based on this novel, but that was so many years ago that I don't remember anything about that film.