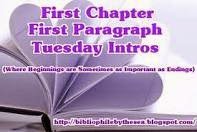 I've started a new book so let's do a Tuesday Intro post. First Chapter First Paragraph Tuesday Intros is hosted by Diane at Bibliophile by the Sea. Here's my intro:
"Now three had died. But Crispin didn't know it. She sad propped up on the cold terrazzo floor; her back against the wall in a seated fetal position, her face buried in her knees. It took all of her concentration to control the urge to empty her stomach again; to swallow the acidic foam burning the back of her throat. Her lilac dress, wrinkled and soiled beyond redemption, offered little warmth as she shivered at the sound end of a long Vatican hallway."
From Shrouded by Meredith Lee.
What just happened to this poor girl to be in this state? I know I definitely want to know. What about you would you be interested in continuing?
We are discussing this book at my book group next week so I need to hurry up. I'm excited to read this book because it was written by one of our book group members! Meredith Lee is actually a pseudonym for two authors and both will be at our next book group meeting so that should be fun to see what else we find out about how they wrote this and what plans they have because I believe they are busy at work on the second book.