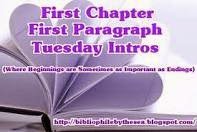 It's been a while since I've done a Tuesday Intro so thought I'd join in this week. First Chapter First Paragraph Tuesday Intros is hosted by Diane at Bibliophile by the Sea. Here's a snippet from one of the books I'm currently reading.
"This one evening – I'll begin my store there – I found him sitting barefoot on the stairs, drinking the sherry, the butt of a cigar between his fingers. 'Poor Eileen,' he said sarcastically when I walked through the door. He was very contemptuous of me, found me pathetic and unattractive and had no qualms about saying so. If my daydreams from back then came true, one day I'd have found him splayed out at the bottom of the stairs, neck broken but still breathing. 'It's about time,' I'd say with the most bored affect I could muster, peering over his dying body. So I loathed him, yes, but I was very dutiful. It was just the two of us in the house – Dad and me."
From Eileen by Ottessa Moshfegh.
How is that for an introduction to our characters? Eileen is a fascinating narrator. I read in one review that she was consumed by resentment and yes, I can see that and just as she is quite awful at times there is something pitiful about her.
I think I'm getting to a turning point in this novel so I can't wait to see what's ahead. What about you, what book are you reading?