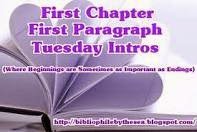 For this week's First Chapter First Paragraph Tuesday Intros hosted by Diane at Bibliophile by the Sea I thought it would be fitting to go with one of the books I'm reading.
"Naturally, I wanted to have a friendly chat with Bernadette. So I walked up to her car while she as in the pickup line. Mea culpa! But how else are you ever going to get a word with that woman? She's like Franklin Delano Roosevelt. You see her only from the waist up, driving past. I don't think she has once gotten out of her car to walk Bee into school.
I tried talking to her, but her windows were rolled up and she pretended not to see me. You'd think she was the first lady of France, with her silk scarf flung just so and huge dark glasses. I knocked on her windshield, but she drove off."
From Where'd You Go, Bernadette by Maria Semple.
Have you read this book? I know it there was a lot of buzz about this when it came out and I can see why. It is so different – at times hilarious and other times a bit sad.
Looks like there's also a moving based on the book. So glad I'm getting to read the book before the movie is out. Anyway, what about you, what new book are you reading?