Happy Sunday Salon everyone. What's the scoop? Given that Valentine's Day is coming up I was thinking that it'd be fun to read a good love story. Not a Harlequin romance type. Nothing against those (actually I went through a phase long time ago when I read my share of romance novels) but I'm looking for something more like The Time Traveler's Wife, The History of Love or The End of the Alphabet. That kind of love story.
So anyone have a good one to recommend?
And, because I've been thinking of love and friendship, I got out one of my papers for the perfect Valentine's journal. Unfortunately there's a little flaw in the journal, nothing you can see on the covers or that would affect the way it's held together but I hope one of my readers would like it. So I'm having a little drawing for the journal and maybe some other little Valentine goodies. Leave a comment with a love story you recommend and I'll do a drawing for the journal in the next couple of days.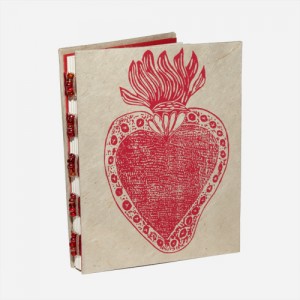 We didn't go to Dallas this weekend after all but we've spent a wonderful few hours at BookPeople yesterday and today I'm hoping to get in some good time in the Studio cutting paper and listening to some music. Of course I hope to catch up on some blog visiting. Hope you are all having a great weekend!