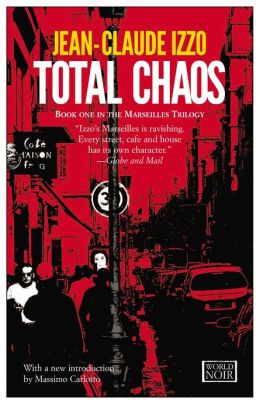 "You were back in Marseilles because of Manu. To take out the son of a bitch who'd killed him… You weren't after the guy who'd whacked Manu. A hitman, for sure. Cold and anonymous. Someone from Lyons, or Milan. Someone you wouldn't find. The guy you were after was the scumbag who'd ordered the hit. Who'd wanted Manu killed. You didn't want to know why. You didn't need any reasons. Not a single one. Anyone attacked Manu, it was like they'd attacked you."
Total Chaos
By Jean-Claude Izzo
The streets and neighborhoods of Marseilles come alive in this gritty story about friends who live on the edge of poverty and danger. Manu, Ugo and Fabio engaged in petty crimes as they were growing up until finally Fabio decided to take a different path but despite the fact that he turned to law enforcement he still remains true to his friends.
Ugo returns to Marsailles to the avenge the death of their friend Manu and is killed himself. Now Detective Fabio Montale wants answers for himself and for Lole, the woman they all have loved, and he realizes that corruption is just as much a part of the police force as it its outside of the department.
To complicate matters a friend of Fabio, a young woman, is missing and Fabio fears the worst. Unlike her immigrant father who met with a lot of hardship in France, Leila is a woman with an education and big dreams. She is French but there are those who will never see her as anything other than an immigrant.
Throughout the novel Fabio reminisces about his past and not only does the reader learn about the friends and their motivations but it's also a history of Marseilles.  Like any other country tensions rise when there is high unemployment. Crime goes up, the youth and immigrant communities feel marginalized and become a scapegoat for the ills of society and well you have communities on the verge of chaos.
Poetry, writers, good food and world music also populate the pages of this novel creating a rich atmosphere. The mystery and motivations were sometimes a bit hard to keep track of but in this novel the mystery almost takes second place to the setting and in this book it worked. Definitely one of the best books I've read this year. I look forward to the rest of the Marseilles trilogy books.
Source: Advance Review Copy