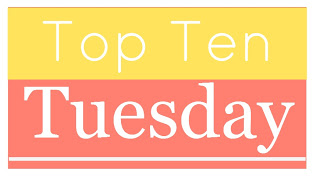 It's another edition of Top Ten Tuesday. I'm on a roll with these lately! Thanks again to The Broke and the Bookish for hosting this meme. This week it is Top Ten Favorite Books With X Setting (ie: futuristic world, set mostly in schools, during World War II, books set in California  etc. etc. So many possibilities!)
I love all kinds of settings but one of my all-time favorites is the Victorian Era. I love the details of the dresses, the social norms, the gender/class issues and so much more. I'm partial to books set in England but mainly it's the time frame that I'm interested in. So I didn't actually choose any novels written during the Victorian era for this list but went with some modern books set in the time period. Here are my Top Ten:
A Great and Terrible Beauty by Libba Bray
Affinity by Sarah Waters
Tipping the Velvet by Sarah Waters
The Dress Lodger by Sheri Holman
The Somnambulist by Jonathan Barnes
The Observations by Jane Harris
The Spiritualist by Megan Chance
Silent in the Grave by Deanna Raybourn (first in the Lady Julia mystery series)
Murder on Bank Street by Victoria Thompson (first in the Gaslight mystery series)
Let Loose the Dogs by Maureen Jennings (first in the Murdoch mystery series)
Making this list reminds me that it's been a while since I've read a book set during this time. I think I need to remedy that. Anyway, what are some of your favorite settings?