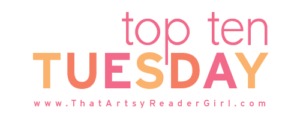 I'm back with another Top Ten Tuesday post. As a reminder Top Ten Tuesday is hosted by That Artsy Reader Girl and every Tuesday she has a new topic to get you thinking about books and all things bookish.
This week's topic is: Books I Loved but Never Reviewed. This was an easy one as I am always behind on reviews. I decided to go through some of my year in review lists and easily came up with some favorite reads.
The Paying Guests by Sarah Waters. After WWI, an impoverished family must take some lodgers but the arrival to Lilian and Leonard Barber will upturn the lives of Frances and Mrs. Wray. It's Sarah Waters, what else can I say.
The Boston Girl by Anita Diamant. An unforgettable novel about a young Jewish woman growing up in Boston in the early twentieth century. I listened to the audio of this and loved every minute of it.
This Could Hurt by Jillian Medoff. Rosa Guerrero is the chief of human resources but her most vital days are behind her. There are office politics, downsizing and through it all it's a story of work life. Perhaps because I'm in HR this one resonated so much with me.
The Winter People by Jennifer McMahon. West Hall, Vermont, has always been a town of strange disappearances and old legends. The most mysterious is that of Sara Harrison Shea, who, in 1908, was found dead in the field behind her house just months after the tragic death of her daughter, Gertie. So creepy and so good.
Eileen by Ottessa Moshfegh. My name was Eileen Dunlop. Now you know me. I was twenty-four years old then, and had a job that paid fifty-seven dollars a week as a kind of secretary at a private juvenile correctional facility for teenage boys. This is the story of how I disappeared. Eileen is not likable at all but so memorable.
The Revised Fundamentals of Caregiving by Jonathan Evison. For Ben Benjamin, all has been lost–his wife, his family, his home, his livelihood. Hoping to find a new direction, he enrolls in a night class called The Fundamentals of Caregiving, where he will learn to take care of people with disabilities. This was so sweet and sad.
Eleanor & Park by Rainbow Rowell. Set over the course of one school year in 1986, this is the story of two star-crossed misfits-smart enough to know that first love almost never lasts, but brave and desperate enough to try.
Persuasion by Jane Austen. At twenty-­seven, Anne Elliot is no longer young and has few romantic prospects. A love story tinged with the heartache of missed opportunities. This is fabulous.
Me Before You by Jojo Moyes. They had nothing in common until love gave them everything to lose . . . Yep, I shed some tears when I read this one. So good.
I Will Have Vengeance by Maurizio de Giovanni. Commissario Ricciardi has visions. He sees the final seconds in the lives of victims of violent deaths. It is both a gift and a curse. Ricciardi is such a great character.
Just writing about these has reminded me again how much I enjoyed each one. If you read any of these let me know and if you haven't, I hope you'll find one you want to check out.