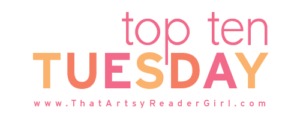 It's been quite a while since I joined Top Ten Tuesday but I remembered to look at the suggestions in time to put together this post. Top Ten Tuesday is hosted by That Artsy Reader Girl and every Tuesday she has a new topic to get you thinking about books and all things bookish.
This week's topic is: Books With Colors in the Titles. To challenge myself a bit more I went to my shelves to see if I could pick out ten books.
Death of a Red Heroine by Qiu Xiaolong. A young "national model worker," renowned for her adherence to the principles of the Communist Party, turns up dead in a Shanghai canal
Blood Orange by Harriet Tyce. Alison has it all. A doting husband, adorable daughter, and a career on the rise–she's just been given her first murder case to defend. But all is never as it seems…
Half of a Yellow Sun by Chimamanda Ngozi Adichie. If you haven't read this book add it to your list! It's a wonderful story about Biafra's struggle to establish an independent republic in southeastern Nigeria during the late 1960s.
The Land of Green Ginger by Winifred Holtby. Joanna Burton, a missionary's daughter, grows up dreaming of the far-off lands she will visit, of grand adventures to come.
The Mystery of the Blue Train by Agatha Christie. When the luxurious Blue Train arrives at Nice, a guard attempts to wake serene Ruth Kettering from her slumbers. But she will never wake again.
Mauve by Simon Garfield. In 1856 eighteen-year-old English chemist William Perkin accidentally discovered a way to mass-produce color.
The Secret History of the Pink Carnation by Lauren Willig. Realizing romantic heroes are a thing of the past, graduate student Eloise Kelly is determined to focus on her work. Her first stop: England, to finish her dissertation on the English spies of the Napoleonic Wars
Eight White Nights by Andre Aciman. A young man goes to a Christmas party in upper Manhattan where a woman introduces herself with three simple words: "I am Clara." Over the following seven days, they meet every evening at the cinema.
The Silver Gun by L. A. Chandler. An Art Deco mystery set in New York City, 1936. Those in City Hall know that tumultuous times can inspire both optimism and deadly danger . . .
The Black Minutes by Martin Solares. When a young journalist is killed, the investigation into his murder reveals missing links in a disturbing multiple homicide case from 20 years earlier.
Let me know if you've read any of these. If you also participated in this I'd love to see your colorful list!