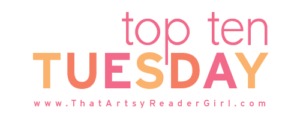 It's time for Top Ten Tuesday! In case you haven't seen this, Top Ten Tuesday is now hosted by That Artsy Reader Girl and every Tuesday she has a new topic to get you thinking about books and all things bookish.
This week's topic is new-to-me-authors I read in 2018:
You probably saw my favorites list for 2018 but there were some other books I didn't get a chance to mention and I thought this would be the perfect way to share those books with you and remind myself too that I want to read more by these authors.
Elena Ferrante – My Brilliant Friend. You all have probably heard about this quartet of novels detailing life in Italy. I hope to continue reading the saga of these two friends.
Laura Madeline – Where the Wild Cherries Grow. A wonderful story about a woman escaping to life in South France during WWI.
A.J. Banner – After Nightfall. A Thriller where there are a lot of suspects and lots of red herrings.
Mary Torjussen – The Girl I Used To Be. The morning after real estate agent Gemma Brogan has dinner with a prospective client, she's furious at herself for drinking so much. But there will be more to regret than a nasty hangover.
Sally Hepworth – The Family Next Door. A lovely neighborhood with a lot of secrets.
Fiona Barton – The Child. As an old house is demolished in a gentrifying section of London, a workman discovers human remains, buried for years.
Camille Pagan – Woman Last Seen in Her Thirties. At fifty-three, Maggie Harris has a good marriage and two mostly happy children. She never thought her husband would leave her and now what is next for her life?
Joy Ellis – Crime on the Fens. Jen & Kay turned me on this series and it is so good. I can't wait to get to the next book.
Katy Regan – Little Big Love. Enjoyed the characters very much and I liked the sweet romance and family drama.
Louise Candlish – Our House. I'll try to do a mini review of this one soon but if you like a good thriller, check this one out.
Would love to hear if you've read any of these. Or tell me if you discovered a new author you definitely want to read more of this year.