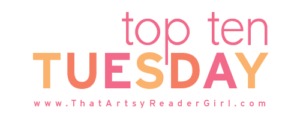 It's been quite a long time since I participated in a Top Ten Tuesday and I wanted to get back into it at least every once in a while. So in case you haven't seen this, Top Ten Tuesday is now being hosted by That Artsy Reader Girl and every Tuesday she has a new topic to get you thinking about books and all things bookish.
This week's topic is Hidden Gems (which books we haven't heard about anymore?):
This is a great way for me to think about some favorite reads over the years and maybe if you haven't heard of them you might want to check these out.
Remarkable Creatures by Tracy Chevalier. While the author is pretty well known for other best sellers, like Girl with A Pearl Earring, I think this book is one not to miss. It's the story of two women, fossil hunters, forging a path to some of the most important discoveries of the nineteenth century.
Strange Pilgrims by Gabriel Garcia Marquez. A collection of short stories featuring Latin American characters adrift in Europe. You all know, short stories aren't necessarily my go to but this collection is fabulous.
Loving Pedro Infante by Denise Chavez. Tere, who lives in a dusty town outside El Paso, is having an affair with a married man but loses herself in the movies of late film and musical star Pedro Infante, a man known as the Mexican Elvis.
Tulip Fever by Deborah Moggach. Take a trip to seventeenth-Century Amsterdam in the grip of tulip mania. My copy of this book even includes some artwork from the time.
The Scold's Bridle by Minette Walters. I think Walters is a wonderful storyteller but I don't see many of her mysteries here in the States. This was my introduction to her books so perhaps that's why I liked it so much.
The Post Office Girl by Stefan Zweig. Christine works in a provincial post office in post WWI Austria when out of the blue a telegram from a rich American aunt inviting her to the Swiss Alps. Oh what will await her.
The Revised Fundamentals of Caregiving by Jonathan Evison. Ben has learned about caregiving but his courses didn't prepare him for the frustrated 19-year-old boy who is in the advance stages of muscular dystrophy who is now his client.
Renato's Luck by Jeff Shapiro. Renato's life and town are going through a lot of changes and after a dream he decides he needs to visit Rome. Before long, Renato is going to the Vatican but also on behalf of his townspeople.
Ferris Beach by Jill McCorkle. Two girls become best friends during the early 1970s. A book to take you back to another time and place.
Spilling Clarence by Anne Ursu. What if you could suddenly remember everything that ever happened to you? This is what happens to the townspeople of Clarence who fall under the spell of a strange and powerful drug that unlocks their memories.
In case you are wondering, I do have all of these on my keeper shelf. I had such a great time looking over these while I compiled this list that I'm almost tempted to re-read a couple. Anyway, let me know if you've read any of these or if you have a hidden gem to recommend!