For those of you who enjoy book series, what makes you continue or stop following a series? As I've mentioned before I tend to read a lot of mysteries and most of them are series. What draws me back is usually the characters and how they are developed over time.
What I don't like is when a series starts to feel like it's the same thing. New crime to solve but nothing exciting happening with the characters. One series that I finally gave up on after book 10 or so was the Stephanie Plum series because I felt like every book I was reading was the same one. By book 10 I didn't care about the mysteries or how many cars the main character had blown up, I wanted something different and I just wasn't getting that.
There are some series that I don't go back to very often but are still on my radar but there is one series which I've been following for a long while now and I'm getting frustrated with because again, there is nothing happening with the main characters. What am I talking about?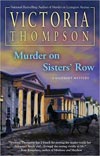 Murder On Sisters' Row by Victoria Thompson is the thirteenth book in the Gaslight Mystery series. These books are set in nineteenth-century New York and feature a midwife and a Detective Sergeant. Sarah and Frank come from very different worlds, she's actually from a very wealthy family, but somehow they end up working together quite often to solve crimes.
These mysteries are a bit more on the cozy side and I love the historical setting but goodness is anything ever going to happen between these two characters? When I started reading the series there seemed to be a lot of chemistry between them and although I'm not a big romance reader it was nice to see that between these two. It seemed genuine. As the series has progressed it seems like they are further apart than ever. I guess I've just never been a big fan of those "will they or won't they" plotlines.
Will I read the next one? I don't know. Right now I'd probably say no but maybe next year when a new book comes out I'll once again be willing to give it another try.
Anyway, what about you, when do you call it quits with a series?