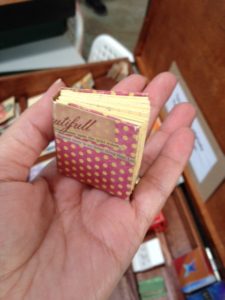 Today I visited Paper & Craft Pantry to check out the Tiny Book Show! The creators of The Creativity Caravan have taken their bookmobile on the road filled with tiny treasures. They are making stops along the way to showcase the tiny books and also host tiny bookmaking classes.
When we arrived a group was already sitting down amid colorful papers, glue sticks and all sorts of items to get started on their creations. I didn't realize they were going to be making books otherwise I might have gotten there earlier to jump in on the fun.
They had vintage suitcases filled with tiny books. In case you are wondering, a mini book according to the rules of the Miniature Book Society, can be no bigger than three inches. What I loved at this book show is that you could look through all the books. I loved being able to open them, see the different bindings and just to see what was in them.
There were a lot of creative editions. Poetry, how-to manuals, collage books, books in pen, books typewritten and I think I saw some blank books. Being a bookbinder myself, I liked seeing the different bindings, I know I enjoy working with smaller books myself but tiny books like these are sometimes much harder to make. I saw some leather bound books and I did see some long stitching, pamphlet books, and simple stapled books which were still adorable.
I also saw some tunnel books. These special books have cutouts in the center and so you feel like you are seeing various images through a tunnel. You can take a look at this page that explains tunnel books better. I've never tried to make a tunnel book but hopefully one day I'll work on that.
You can see some of the creations by visiting their online shop.
The Tiny Book show moves on tomorrow to make their way to Georgia and beyond. You can take a look at their travel schedule and see if they'll be in your part of town. If they are, please go see it. You will love it.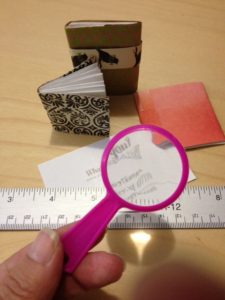 Of course I had to get souvenir and bought a Tiny Book kit. It came with three mini books and a magnifying glass. How cute is this?
Oh and last but not least, I did love The Paper & Craft Pantry too. What a cute shop with all sorts of stationery, gifts, and a bright and nice space for workshops. I saw that in the past they've hosted workshops on hand lettering, embroidery and screen printing. Let's just say I've added my email address to the mail list.
Now, I guess it's time to read. I think I'm going to look for a new book to add to my current reads because the mystery I picked up the other day is a bit intense and I think I need something less vivid before I go to sleep. So, off to check out my bookshelves!