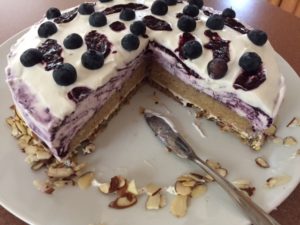 Hello Friends! I hope you've all been doing well and for those of you in the U.S. I hope you spent a wonderful Memorial Day holiday. I didn't mean to be away from the blog all last week but I was super busy at work and then as luck with have it, I came down with a cold. All just in time for my birthday. Boo-hoo.
But all the wonderful notes from friends and family definitely made me feel better. Luckily by this weekend I was feeling much better and my husband baked me a delicious Heidlebeertorte to celebrate.
Unfortunately my reading has been practically at a standstill – I've been reading every day of course – but just not very much. And, when I was right in the middle of my cold I couldn't concentrate much on reading because of the sinus pressure.
Anyway, things are getting back to normal around here and now to find a new book to start reading. I did finish Eileen today and absolutely loved it. Probably going to be on my yearly favorites list. I look forward to catching up with you and more book talk soon!