You know I love a good mystery. I enjoy trying to decipher the clues and following a sleuth to the conclusion but recently I've read two books, which although had a good mystery aspect to them, were definitely more focused on the psychological aspect.
"The suspense created by psychological thrillers often comes from two or more characters preying upon one another's minds, either by playing deceptive games with the other or by merely trying to demolish the other's mental state." From Wikipedia.
If this sounds like the sort of reading you might want to check out then I highly recommend Into the Woods by Tana French and Trick of the Eye by Jane Stanton Hitchcock.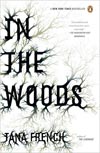 First, Into the Woods. This was a review copy and one I was very excited about. I'd first heard about this book through the Barnes & Noble Discover New Writers newsletter and then of course it was on my radar for a while as the book has received a lot of praise and even won an Edgar award for best first novel. The praise is well deserved. This intense novel tells the story of three childhood friends who go into the woods to play one day and only one returns home. The event has haunted Detective Rob Ryan for the past 20 years and now with a new crime in the same woods he has the chance to solve both crimes and finally put this behind him. You see, he was the one who made it back from the woods.
This story is gripping and one where you really get into the minds of the characters. You see them making mistakes or taking actions but you know the reasons why and understand. It's not a typical mystery so readers wanting neat resolutions may not enjoy this one but give it a try. I think this is one of the best mysteries I've read this year. You can read more of my review here. There are also plenty of reviews on the book selling websites but I warn you a lot of those give away the ending which I think is because so many people didn't like it. I admit at first I wasn't sure but honestly I think it ended in just the right way. I wouldn't have changed it.
Now I can't wait to read The Likeness which is a follow-up to Into the Woods.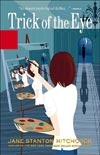 The other book I enjoyed was Trick of the Eye (click on title for my review) by Jane Stanton Hitchcock. Also an Edgar nominee several years ago. This is one of those books that I was eager to read but as sometimes happens, it ended up lounging on my shelves for quite a while. We all know how that goes right? Anyway, I was in the mood for a thriller and this fit the bill nicely. Duplicitous characters abound and an ending with a twist. Plus, I do get a kick out of reading about art and/or artists.