It's that time again, another great issue of Estella's Revenge is up so you don't want to miss out on that. I was able to get a review done on time for this issue and I'm happy to announce that author Samara O'Shea has given us a book for a giveaway. So I hope you'll enjoy the review and will participate in the giveaway. Please check the zine for all the details and good luck!
In other news, don't forget that the Slaves of Golconda discussion on Ruth Hall has started over at the MetaxuCafe Forum. I've gotten about half way through the book – it's so interesting to read a book that was a bestseller back in 1855.
Finally a bit of a bookbinding update. My vellum spine book is done!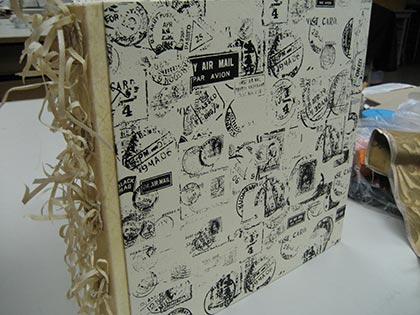 Can you believe there is no sewing in this book? It's all being held together by the vellum. This is the largest book I've worked on and measures approximately 12″ x 13″. When I get a chance I'll take more pictures of it to show you more of the details.
Do you see that bit of fabric scrap off to the side? That's a new book project I've started. I'll be using cloth for the entire cover (I'm using some upholstery fabric) and I'm hoping to achieve a decorative spine by using color thread and sewing it in a certain pattern. Aside from cutting the cloth and backing it with some paper so it'll be sturdy I have my spine, book covers and holes through which the thread will go in place. This is what it looks like so far:
Alright, off to continue reading Ruth Hall.