I'm trying to catch up on some book reviews and realized there were several I had read a while back and never mentioned. The last review is by my husband who avidly follows the Gray Man series. So here are some snippets and hope you find a book you'll want to try.
Emma in the Night
By Wendy Walker
"We believe what we want to believe. We believe what we need to believe. Maybe there's no difference between wanting and needing. I don't know. What I do know is that the truth can evade us, hiding behind our blind spots, our preconceptions, our hungry hears that long for quiet. Still it is always there if open our eyes and try to see it. If we really try to see. When my sister and I disappeared three years ago, there was nothing but blindness."
Three years ago, 17-year-old Emma Tanner and her 15-year-old sister, Cassandra, left home, disappearing into the night. Now Cass is back but what happened to Emma? When a forensic psychologist, Dr. Abby Winter, is brought in to explore what happened, she uncovers that Cass is not a reliable witness but most disturbing of all is the girls' mother. Is story is told in various viewpoints so I did like that but unfortunately I was not as engaged in this thriller as much as I had hoped.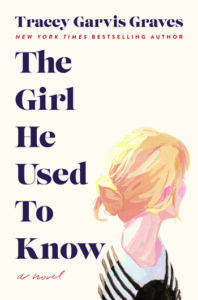 The Girl He Used to Know
By Tracey Garvis Graves
"I run into him at Dominick's, of all places. I'm poking around in the freezer case, searching for the strawberries I put in my morning smoothie, when a man's voice somewhere off to my right says, "Annika," He sounds unsure. From the corner of my eye, I catch a glimpse of his face. It's been ten years since we've seen each other and though I often struggle to recognize people out of context, there's no need for me to question whether or not it's him. I know it's him."
Annika first met Jonathan in college in the chess club. She was almost ready to call it quits and go back home but with her roommate's help and then meeting Jonathan, she was able to make it on her own. Despite never explicitly saying that Annika is on the Autism spectrum, she has issues connecting to others and frankly prefers animals to humans. Annika and Jonathan loved each other but issues pulled them apart and now ten years later, they are given a chance. Can this couple find a happy ending? I was expecting that this was going to be a wonderful romance novel and while I enjoyed some parts about, it did not meet my expectations.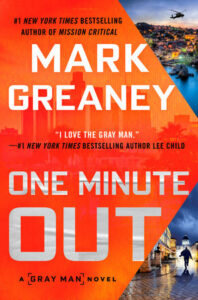 One Minute Out
By Mark Greaney
"The old man's eyesight was not good, but even if he'd had the vision he'd enjoyed in his prime, he would not have been able to see the sniper across the valley, dressed in a green foliage grille suit and lying in thick brush 470 meters away, holding the illuminated reticle of his rifle's optics steady on the old man's chest."
One Minute Out is the latest novel in Mark Greaney's Gray Man series. And it is the first time a Gray Man novel has been written in the first person. After reading most of the other Gray Man books, this took some getting used to as it shifts from third person to first person with the Court Gentry passages. 
The story takes the Gray Man from Europe all the way to Hollywood after he uncovers a human trafficking operation in the Balkans. He follows the pipeline of women moved from Croatia via Italy to the US and along the way he teams up with one of the women's sister who works as an analyst in financial fraud for EUROPOL.
For the finale he also gets some help from a small group of older and retired ex special forces members which sometimes felt a bit of a stretch. Overall it is another entertaining Gray Man novel which didn't disappoint. I'd prefer the next one being written in the third person again though.
All of these were advance review copies from NetGalley.
Let me know if you've read any of these and what you thought or if one of these is on your wish list.