I wanted to do a quick post on three books I've read. All very different but hopefully you'll find something here that interests you. Unfortunately the last one I did not finish but because I actually got almost done I figured I'd still give you a few of my thoughts on it.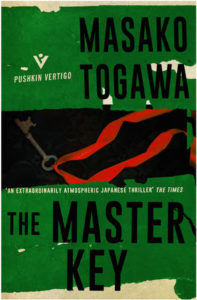 The Master Key
By Masako Togawa, Translated by Simon Grove
"When the woman had got about a third of the way across the road, a small van came racing towards her from the direction of the Gokokuji temple. It was fully laden with wooden kegs of nails. The young driver, a boy from the mountains, was affected by the snow; his mind was full of the rose-cheeked girls of this native place, and he had his foot hard down on the accelerator as he came up the slope."
This mystery kicks off with news of a kidnapped child and takes the reader into an apartment complex only for women in Japan. Two receptionists man he front desk and take notice of the comings and goings of the occupants. On top of that the whole building is being moved and once this happens a big secret is revealed, the body of a child buried underneath. As this mystery is uncovered it is clear that there are more secrets locked away in each apartment all linking the residents. While I did have a bit of confusion at certain parts in the narrative this was definitely a compelling puzzle I was working to solve and found it had a very clever resolution. Would love to read more by this author.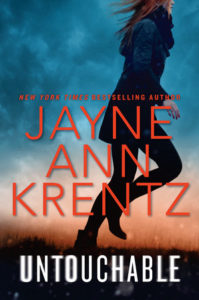 Untouchable
By Jayne Ann Krentz
"Fifteen years earlier… She was fourteen years old and sleeping in yet another bed. The little house on Marigold Lane looked cozy and welcoming from the street – lots of curb appeal, as the real estate agents liked to say – but she had decided that she would not be there for long."
Jack Lancaster, an FBI consultant specializing in cold cases, has a calling to help get justice for victims. All along also hoping to find justice for himself from Quinton Zane. Zane wrecked havoc on his life and his two adopted brothers. The only time Jack feels at peace is with Winter Meadows who is a meditation therapist. Winer has her own dreams to deal with and soon she'll be joining forces with Jack to help save their lives. This book is the third in the Cutter, Sutter & Salinas trilogy but can be read on its own. Actually, if you've read the first two and expect a lot of interaction between the previous characters you may be disappointed. This book falls a bit more in the romantic suspense category with the usual strong characters the author creates and readers can enjoy even if the mystery was a bit farfetched.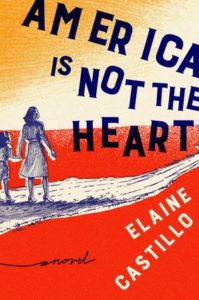 America is not the Heart
By Elaine Castillo
"So you're a girl and you're poor, but at least you're light-skinned – that'll save you."
A story of the immigrant experience in America. Paz is a nurse in the Philippines who moves to the U.S. with her husband. Together they raise a daughter and just as I was enjoying the narrative about Paz adjusting to life in the U.S., the story shifts to focus on Hero de Vera, Paz's husband's niece. Despite Hero coming from a well-off family, she has suffered at the hands of the government for her political dissent. One of my favorite parts in the story was when Hero is in the States and hangs out at a local restaurant owned by other immigrants. I loved hearing about how they had found a way to make the States their home. What I didn't like were the shift in events from past to present and while I normally do enjoy that, this only made the story feel like it wasn't moving forward and all of a sudden Paz's story seems to get lost. The story felt very long and  I simply lost interest and didn't finish this one.
All of these were advance review copies from NetGalley.
Let me know if you've read any of these and what you thought or if one of these is on your wish list.