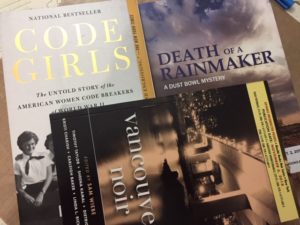 I have some new books I'm excited about and wanted to share those titles with you.
Code Girls by Liza Mundy. The award-winning national bestseller about the American women who secretly served as codebreakers during World War II. I know a lot of you have read and raved about this one so I look forward to this book on such an important role in history which was never mentioned in any of my high school or college history book.
Death of a Rainmaker by Laurie Loewenstein. This new mystery series is set in Vermillion, Okla., in 1935. The main characters will be dealing with a murder during the devastating period of the Dust Bowl.
Vancouver Noir edited by Sam Wiebe. Akashic Books continues its award-winning series of original noir anthologies. I've enjoyed several of these anthologies and having traveled to Vancouver a couple of years ago, I'm really excited to read about a place I would love to visit again. For now I guess it will just be via my armchair travel with this book.
I hope you all have a wonderful weekend and more book talk soon!