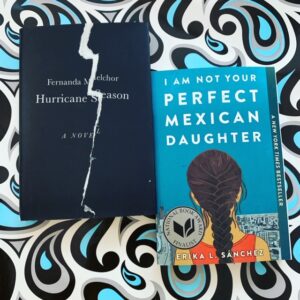 I hope you all had a good weekend. I've been reading some poetry, writing in my journals and of course trying to process the news. I know many of you are probably overwhelmed with a lot of resources but I wanted to share a few others. I thought this was a good list from NPR which shares a list of books, films and podcasts about racism. If you feel like there's more you can do but you don't know what, take a look at this great post on Letters to Write for Change via Punkpost. I know I'll be sending some letters soon.
On the book front, I cannot believe I had not heard about Black Pearl Books. This woman-owned indie bookstore is based out of Austin. They don't have a store front but do pop-ups and mail-order. So excited to have found them and look forward to doing some shopping with them soon.
Speaking of book shopping, a recent order arrived from B&N. I had placed this order with some gift cards I had received. I got Hurricane Season by Fernanda Melchor and I am Not Your Perfect Mexican Daughter by Erika L. Sanchez. Both books I've heard a lot about so I wanted to add them to my shelves.
So that's it for tonight. Now to do a bit of reading and then time to sleep to get ready for a busy work week. Stay safe, everyone!