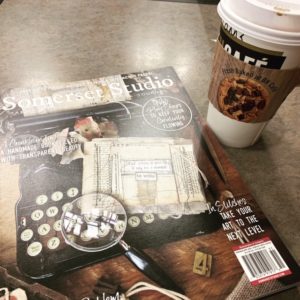 Happy February, Friends! I hope you all had a great weekend. We had beautiful weather this weekend and I'm only sad that I didn't get to be outdoors because I had errands to get done and before I knew it the weekend was over. I think we'll have a few more beautiful days ahead but definitely makes me wonder what happened to winter?
Anyway, we did go out to the bookstore for a break on Saturday and it was packed. For a while there I thought we were never going to get a table but we managed to snag one and then it was time to check out some magazines.
Again I can't help but think how sad it is that so many of my favorite magazines have stopped publication. Along with Somerset Studios which I loved to look through I glanced through the latest copy of Daphne's Diary and there was an article about a bike tour through the lovely Mosel Valley in Germany. We have not been there but let me tell you, this got me thinking and dreaming.
In book news I'm focusing on three books for now but I have a library hold waiting for me. Yes, a library hold. I think it's been at least three months since I went to the library so I'm excited to go visit this week.
I hope you have a great week ahead. What are you looking forward to this week?