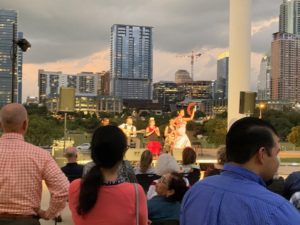 How is everyone doing? I'm so sorry my posts have been so spotty lately but last week was a busy one at work and I was just exhausted when I got home. All I've been doing I feel like is watching crafty videos on youtube. Ha.
Anyway, we did get out for some fun on Sunday when we went to a flamenco concert. There was a short performance outside against the Austin downtown backdrop so it was really lovely but the best part was to come. Nino de Pura delighted the audience with the beautiful guitar sounds.
Other than that the weekend was also a lot of running doing chores and garden work. I have so much to tell you about new books I've received, books I've finished reading, etc. but first I have to vent about a library snafu.
Don't get me wrong, I love my public library but I had ordered a book via ILL for my husband and I returned it last Wednesday but they've lost it! So now I probably will have to pay for it. It's not that expensive but that's just never happened before. As a matter of fact, I returned another book that day and they have that one but not the other. We'll see what happens. Hopefully they'll find it.
So that's the latest. Again, I'm so sorry I've been away from blogland but I'll catch up one of these days. Take care friends and more bookish talk soon.