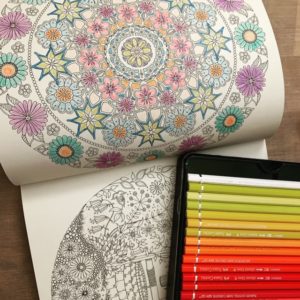 I hope you all had a wonderful weekend. I was so ready for the weekend by the time Friday came along and that's probably what I'll be saying for the next couple of months. Usually the last months of the year are crazy in HR because I have to manage benefits enrollment, performance reviews and all the while handle the usual daily stuff but all is good.
Anyway we had a lot of fun on Saturday because we went to the kick off concert for Austin Classical Guitar. The season started with a performance by Xuefei Yang, who was the first-ever guitarist in China to enter a music school, and became the first internationally recognized Chinese guitarist on the world stage. She was wonderful.
Not only did we listen to some beautiful Chinese traditional music but she also delighted the audience with works by Spanish composers and a beautiful flamenco piece.
Other than that, it was a lot of chores around the house but when I had some spare time I was busy reading and coloring. I have been doing quite a bit of coloring lately to wind down from the hectic days at work.
Anyway, I hope you have a great start of the week and let me know what you are looking forward to. I think we have a cold front headed our way – finally!