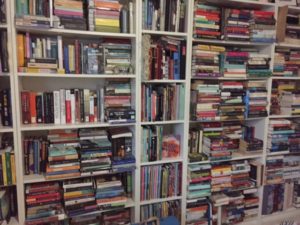 I've been enjoying some new things and wanted to talk a bit about those here.
First up, booktubing. I know bookworms have been vlogging about books on YouTube for years now but I've been slow to catch on to that. Usually I tend to watch crafty videos on YouTube but I just discovered El Librero de Valentina and I'm hooked. She's a Mexican book vlogger and has some wonderful recommendations of books from Latin America. So needless to say my wish list is exploding. If you understand Spanish (or want to practice) go check her out and I bet you'll come away with a lot of books to add to your list.
I've also recently finished two books, Persons Unknown by Susie Steiner and Useful Phrases for Immigrants by May-Lee Chai. I was expecting the Steiner book to be a great follow up to her first novel but I was not happy with the protagonist most of the time. Luckily the Chai short story collection was very enjoyable. I'll have more info on those books in upcoming posts.
Finally, are you guys watching Bosch? I really enjoy the series and we've got one more episode to finish out the season. Do you have any good crime shows to recommend?
Otherwise around here I'm still way behind on talking about some other books I've finished in the past couple of months so stay tuned for those.