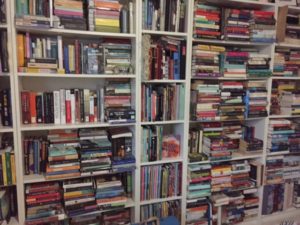 Hope you've all had a great weekend. I didn't realize it had been almost a month since we last went to the bookstore. Yikes. So needless to say, that's where we spent our afternoon on Saturday.
I was hoping to find the latest issue of Flow Magazine but didn't see it but I did find the recent Somerset issue and so glad I did because I read a great article about artist Melissa Combs and that's led me to look into a new technique – Pulled paint technique. I have sort of tried this before, mainly at art journal workshops, but I didn't realize this is what it was called or the history of it. So hopefully some fun collage work is in my future.
Also found out that the magazine Where Women Create is no more but a new publication by Stampington is coming out in August which is going to be somewhat similar this time it's called In Her Studio. I can't wait to check it out so I better mark my calendar so I don't miss the issue.
And, on another note, I recently read a Walt Whitman poem, Miracles, which just blew me away. I am not very familiar with Whitman's works so this has sparked my interest no doubt. I've already printed the poem out and added it to my poetry journal.
I also recently visited the library to pick up a hold and a got a few other books so I'll tell you about them in my next post. Did you read a good book or magazine this weekend?