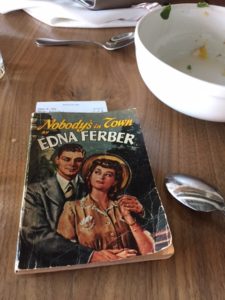 I hope you had a wonderful weekend. After a beautiful Friday, we got quite a bit of rain and had to get out the fleece jacket again. I met up with some friends to celebrate a birthday and we had delicious pizza at Bufalina. They also scored high marks for the way they presented the check… In a vintage book. Isn't that awesome?
Anyway, we did make it to the bookstore today and I bought a couple of magazines. One for my mom and one for me. I got a little magazine from PreventionGuide on Sugar Detox. Haha… I'm laughing already as I know this will be a hard one for me. I have a terrible sweet tooth. Anyway, I'll be curious to try out a couple of the recipes. There is one for granola bars that looks promising. I'll keep you posted.
I wandered around the aisles for a bit and saw a couple of books that sounded good and I want to add to my TBR list. They are:
Bones and All by Camille DeAngelis. From the publisher: an astonishingly original coming-of-age tale that is at once a gorgeously written horror story as well as a mesmerizing meditation on female power and sexuality.
Everything I Don't Remember by Jonas Hassen Khemiri. A young man named Samuel dies in a horrible car crash. Was it an accident or was it suicide? To answer that question, an unnamed writer with an agenda of his own sets out to map Samuel's last day alive.
The Unseeing by Anna Mazzola. A thrilling debut based based on the real case of Sarah Gale, a seamstress and mother sentenced to hang for her alleged role in a shocking murder, bringing together the accused with an idealistic young lawyer assigned to investigate whether she is a guilty murderer or an unfortunate victim.
Have you heard about or read these books? Alright, I hope you have a great start to the week. I finished one book this weekend so I think I'll treat myself to a new book from my bookshelves.