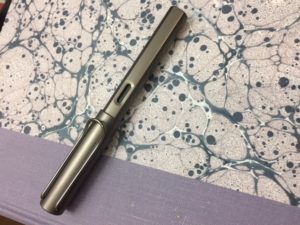 Even though it was a short work week, I am ready for the weekend. It's always a bit exciting to return to work refreshed after the holiday but then all the items that piled up while on break quickly make you want another holiday. Ha.
So this weekend I need to stop by the library to pick up a couple of holds. I'm going to try and not venture over to the new books shelves but I make no promises.
I can't wait to watch
Sherlock
, read my latest issue of
Art Journaling
magazine and check out the
Most Anticipated Books of 2017
. Have you seen this list? Oh my, books by J.M. Coetzee, Haruki Murakami, Penelope Lively and many others. Get your pens ready to take note.
Speaking of pens, did I tell you that I have a new Lamy? My husband got me this beautiful new
Lamy
with a black chromium-plated steel nib, which definitely feels different from my other Lamys when writing. I also have a vibrant blue ink to try out so I think I'll be spending some time with my journals this weekend.
Hope you have a great weekend! Any big plans?