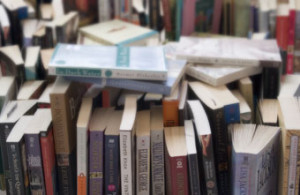 I feel like there's a lot of random stuff I've been meaning to talk about so let's jump right in.
First, the winner of the Dear Almost poetry collection goes to Stefanie! Thank you again to Matthew Thorburn for the guest post and giveaway copy and to Serena for bringing this collection to our attention! I'm looking forward to it.
Lately I've been thinking about bargain books. When I was at the book festival this weekend I saw a tent of Pennyworth Books but believe it or not, I didn't find anything that I just had to have. However when I got home I started browsing Book Close Outs (which I guess now is called Book Outlet) and Daedalus Books and imagining a big book haul. It's been a long time since I've ordered from either of those but I think it might be time. What do you think? And, do you have a great source for bargain books?
I got all excited and disappointed in one day when I heard about An Art Journal Affair. This is a two day event all about art journaling. OMG – sign me up! Unfortunately by the time I went to reserve a spot in the evening, the same day I got the email, there was already a waitlist for the event. A dear friend and I are on the waitlist so please keep your fingers crossed for us. This would be a bit like Journafest which we attended seven years ago.
Finally, in case you are tired of election stuff, how about 10 Fictional Candidates for President? I'm digging the Wonder Woman comic cover but there are some other great posters and pins. Have fun checking that out.
Next up I have to talk about my current reads because I'm all over the place!