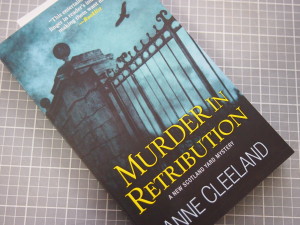 I had a great weekend as I got to spend the day with my best friend who was visiting. We had some coffee while we chatted about life updates, spent a bit of time at BookPeople and Anthropolgie and enjoyed dinner with her and her husband at delicious Mexican Food restaurant.
Unfortunately Sunday I had plans to do a bit of organizing and working in the studio but we started working on our taxes and well, there goes the day.
Anyway, in book news I did pick up the new Anne Cleeland book, Murder in Retribution. I read the first in the series last summer and it was one of those books that I wasn't sure if I really liked but at the same time I raced through it and was curious about the next book. So I'll let you know how this one turns out.
Also, at BookPeople I finally saw that they had the latest BookPage. I love picking up an actual copy versus reading it online.
Another to do this weekend was to return quite a few books to the library without even reading them. Don't you hate it when that happens? I still have some library books out (and a bunch of ARCs that have come in the last few days) so I think it's time to go on a library ban.
My stacks are overflowing and I will really try to limit myself to no new check-outs for the next couple of months. Let's see how long I last. Hope your week is off to a great start!