Over the weekend I finished Faithful Place by Tana French and while I did enjoy reading it very much I had a hard time liking the main character. I'll try do write up a brief review soon but on the whole I still would recommend the book but what I want to know is what she's working on now?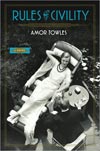 Of course I've started a new book and it's one that's been talked about a bit in blogland, Rules of Civility by Amor Towles. If you've read some great reviews of this book, trust them. I'm enjoying this one so much. I'm not very far into the book but I think it'll be a good one.
The descriptions paint a vibrant picture of New York in the 1930s and the characters feel so real. The story is about Katey Kontent, her beautiful friend Eve and the handsome banker, Tinker Grey, who befriends them. Here's just a snippet from the book:
"That New Year's, we started the evening with a plan of stretching three dollars as far as it would go. We weren't going to bother oursevels with boys. More than a few had had their chance with us in 1937, and we had no intention of squandering the last hours of the year on latecomers. We were going to perch in this low-rent bar where the music was taken seriously enough that two good-looking girls wouldn't be bothered and where the gin was cheap enough that we could each have one martini an hour. We intended to smoke a little more than polite society allowed. And once midnight had passed without ceremony, we were going to a Ukranian diner on Second Avenue where the late night special was coffee, eggs, and toast for fifteen cents."
Can't you just picture these young women? I can't wait to get back to my book.
Before I forget, I see that the Slaves of Golconda have a new book to read and discuss for September, The Golden Mean by Annabel Lyon. It sounds really good. I hope I can finally join in on the discussion.
Alright off to read more and continue making a list of which Heyer books to get. So far, I want four books.