I hope everyone had a great weekend. Ours was very good and I'll tell you about it in a minute but first let's find out who won a copy of The 19th Wife by David Ebershoff.
Drumroll: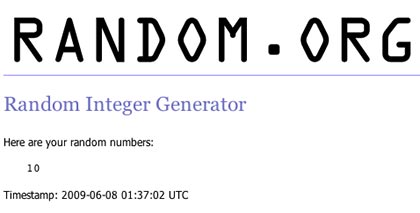 The winner is Lori from She Treads Softly. Congrats, Lori! Thanks again to everyone who commented and stay tuned as I've got a couple of other books to giveaway soon.
So what did we do over the weekend? We went to Borders so I could use my Borders Bucks. Of course I was tempted by lots of books but I was in the mood for a mystery and I found Poison Pen by Sheila Lowe. I remember Literary Feline and Tanabata both mentioning they enjoyed the book so that's all I needed to know.
Aside from making smoothies, I went to yoga, read some in the manual of my new camera (which is actually my husband's old camera as he got a new one), took pics of some new books for the shop, and have been having so much fun reading one of my birthday books, The Guernsey Literary and Potato Peel Pie Society by Mary Ann Shaffer and Annie Barrows.
Now, back to weeding out some books. Yep, it's time to make room in the shelves for more books. I'll let you know how that's going.