Is everyone ready for the weekend? I know I am but first I have a bunch of things to tell you about.
First off, the winners of my book giveaways. Congrats you guys! Here's who gets what:
If you are looking for a good read this weekend, click over to All Things Girl. Christine has two beautiful pictures featured and Jodie has an excellent review of Pat Barker's Life Class. Way to go girls!
Also, if you haven't checked out Natasha's Reading & Blogging For Darfur project please go check it out. Spread the word and let's raise awareness.
And, last but not least, thank you to Marg & Melody who passed on the Super Commenter award to me.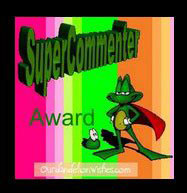 Isn't that sweet? I do love to chat so I guess this proves it. heehee.
This weekend I'm hoping to catch up on some reading and you know, it's been a while since I've gone to the library so maybe I'll have to spend an afternoon among the stacks.