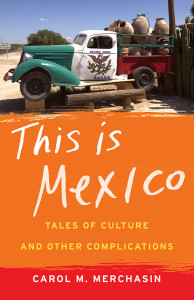 "I moved to San Miguel de Allende, a town in central Mexico, in 2006. Even before the overwhelming US press coverage of drug violence began, people wondered about that decision. I did not have work here; I was a lawyer and independent consultant on employment law training issues. I could have lived anywhere."
This Is Mexico
By Carol M. Merchasin
In this book of essays Carol Merchasin shares her experiences as an expat in Mexico. She wasn't fluent in Spanish, people thought she was being naive about the violence in Mexico and there were probably many more drawbacks but along with her husband they decided to go for it anyway.
Like many expats they had some distressing experiences, like when fireworks were going off as a Fiesta was getting underway only Carol and her husband thought it was gunfire. But those experiences are usually few and far between. Instead, most of their experiences will be about becoming part of a community, like when they are invited to the countless birthday and confirmation celebrations for the children of their employees and their families.
Becoming part of a community you have to learn to adapt and most importantly enjoy the experience. Sure there will be annoyances and things you aren't use to or wish they were like back at home but to make the best of it you will have to go with the flow. I found that the author did just that. Sure there were things that she didn't understand but most importantly I thought she was all about soaking up the experience.
Being that I lived in Monterrey, Mexico for some years and I still have family there, some of the anecdotes she shares I can relate to like the love of Telenovelas she finds that many people share. Mexican soap operas are really very popular. I have family members that watch these and I admit even I watch some with my mom too.
But there are some experiences that are probably found in smaller towns or towns in central and southern Mexico which unfortunately aren't the same in a large city like Monterrey. For example Holy Week is very important in Mexico but the way she describes the celebration in San Miguel de Allende sounds beautiful but it's not something I'm familiar with. It is these anecdotes I found myself enjoying the most.
For anyone who loves a good expatriate story or dreams about what it would be like to live in a foreign country, this book is for you. It will make you think about the things you might miss from your home country but it also lets you imagine the potential for all the adventures you may have.
Source: Advance Review Copy