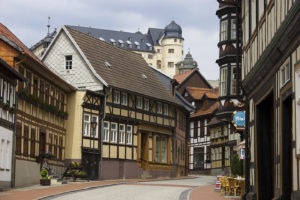 Hi Friends,
Goodness, another week without a post. I have been super busy with work (thankfully, working from home) but like all of you, trying to make sense of all of this. I wake up thinking is today the day we have a breakthrough but no, just more alarming stats. I try not to worry but it's hard and unfortunately I've been finding it hard to disconnect from the nonstop news. Are you feeling the same? How do you disconnect from that?
One thing I will try is what my dear friend, Christine, is doing. As we aren't able to travel and in some cases under stay-in-shelter orders, why not relieve travel memories by looking through past photos? So that's why you are seeing a picture here from Stolberg, Germany. This town is located in the Harz which I'm sure I've mentioned is a favorite place for us to visit.
So I'll be traveling through my photo albums in the meantime. And, in case you haven't heard, you can be a bit of a tourist from your sofa. Visit all of these museums via virtual tours!
Again, I apologize for not being around blogland as much lately. I hope you are all staying healthy and hopefully enjoying a lot of extra time with your books! Tell me what you've been reading.