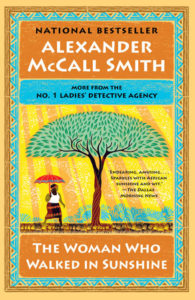 "Mma Ramotswe remembered exactly how it was that the subject of taking a holiday arose. It was Mma Makutsi who started the discussion, with one of her inconsequential observations – those remarks she made a propos of nothing – remarks that had little to do with what had gone before."
The Woman Who Walked In Sunshine
By Alexander McCall Smith
After years of handling so many cases, Precious Ramotswe, the owner of the No. 1 Ladies' Detective Agency, is finally going to take a vacation. She didn't think she needed one and doesn't even realize how she came about to accept such an idea but it seems that everyone agreed it was time she take one.
Leaving the agency in the competent hands of Mma Makutsi, Mma Ramotswe decides she'll try to relax at home and try not to get drawn into the agency's business but after just a couple of days she thinks she's done all she can do around the house and town and thankfully Mr. Polopetsi, their part-time non paid assistant investigator, has come to seek her help with a case.
How will Mma Ramotswe handle this special case without upsetting her Mma Makutsi and her friend Mma Potokwane, who may be hurt by the findings of the case? If there is one thing she knows how to do is handle such special cases so with the best intentions and her calm presence Mma Ramotswe begins her investigation.
If you've read the books in this series you know these mysteries are light and are mostly focused on the characters and the special place that Botswana seems to be. There are quirky characters and there always seems to be a gentleness about these books. Mma Ramotswe does encounter sad situations, such as the case in this installment of Samuel the child who is watching parked cars, but there always seems to be some glimmer of hope at the end of the stories and when you close the last page you know all will be well.
Source: Library copy