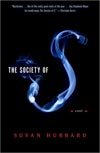 Thanks to Random.org, the winner of my copy of The Society of S by Susan Hubbard is Serena from Savvy Verse & Wit. Congrats Serena!
Thanks for everyone who participated in the giveaway. I'm actually going to have another giveaway next week so stay tuned. This one is for a brand new book that seems to be appearing all over the blogosphere.
Now, have I gotten all my books, snacks, etc. ready for the Read-A-Thon? Nope! I'm so behind. Ok, short post tonight because I need to get ready. See you guys during the Read-A-Thon!