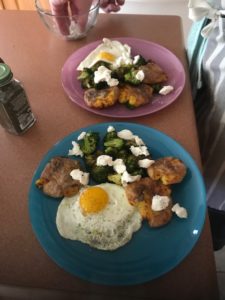 Hope you all had a wonderful weekend. We spent a great Saturday morning checking out Austin Creative Reuse. I love going there because they collect and distribute materials donated by individuals or corporations. They have a wonderful shop where you can find all kinds of things. Yarn, paints, baskets, you name it!
I was sort of looking for any vintage postcards/photos and they did have some but nothing that really called my name. But boy did I score when I hit the scrapbook area. I found tons of paper pads – some looked new – and I spent all of $10 on a huge stack of items. The only bad thing about ACR is that it's not that close to my home, or maybe that is a good thing. Ha.
After that we discovered Bun Belly,  a new to us Vietnamese restaurant where we enjoyed Chicken Pad Thai. That was quite yummy. Before we headed back home we stopped off at Paper Place where I drooled over their fountain pen display. I was looking for a new Leuchttrum notebook but they only had the ones with dotted or ruled pages and I prefer blank.
What else, oh yes, today my husband made a new recipe for us from Real Simple magazine, Sheet-Pan Smashed Potatoes & Broccoli. These turned out so delicious. Simple but good comfort food. We also made a quick stop at the bookstore and I remembered that Somerset Studio is now a quarterly magazine. What a bummer but I guess it's better than it having gone away like so many other magazines.
Anyway, that's a bit of what I was up to this weekend. Tell me what you got up to and if you discovered anything new this weekend.