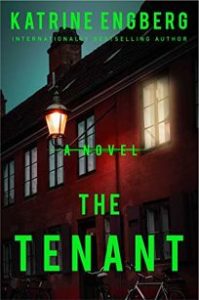 "Gregers fought with all the strength he no longer had and fell helplessly into the women's apartment, landing hard on the floor. Not with a bang but with a thud – the pathetic sound of an elderly man's diminished body in a flannel bathrobe."
The Tenant
By Katrine Engberg; Translated by Tara Chace
Source: Advance review copy
When Gregers tumbles into the apartment of the young women downstairs he's puzzled at the open door and then shocked when he encounters the body of Julie, one of the tenants. Assigned to the case are Jeppe Korner and Annette Werner, two detectives from the Copenhagen squad.
Their investigation starts with the owner of the building, Esther di Laurenti, who has been writing a novel which strangely has a murder in her story which is clearly what happened to Julie. The detectives work to find out who all had access to the work in progress. Was it Esther's houseguest, Kristoffer, who had a crush on Julie or was it someone from her writing group?
The detectives are following up on leads that take them throughout Copenhagen, which for me, was one of the reasons why I wanted to read the book having been there several years ago. I enjoyed reading details about some of the areas.
Korner and Werner are a mismatched pair, but I liked their dynamic even if Korner spent a good part of the book being sad about his wife leaving him and yet quickly falling into an entanglement with an attractive woman. The mystery is not very fast-paced but I think you really get to know the characters and their quirks. I could see myself reading another book featuring these two detectives.