This is my first time participating in The Sunday Salon and while I may not join in every Sunday, I'm looking forward to reading the posts by other participants. Plus, reading and talking about books is a great way to spend a Sunday don't you think.
So, this morning I woke up late and stayed in bed, eating a little brötchen with nutella and reading the fabulous zine Art & Life by Teesha Moore. As I mentioned in my previous post, I had planned to go to a rubber stamp festival and I did but it was kind of a bust. My three favorite vendors weren't there. I know I can shop at their online stores but it's so much more fun to actually see the stuff. Anyway, I did find one vendor who had some of the Teesha Moore zines so at least all was not lost.
I bought issue 9 which is filled with all the vibrant colors and funky drawings well known to Teesha Moore fans. There is one article on guerilla art which I found quite inspiring. The author mentions leaving behind little art pieces for others to find. I have often wanted to do something similar… I'm not really sure what I'd leave behind but I like the idea.
My other favorite piece in the zine has been a visual essay on drawers. Wooden cabinets, flat filing cabinets, old library card catalog cabinets, etc. all providing unique storage for art goodies. I would love to have a library card catalog.
Anyway, I've already looked through the zine twice but I know I'll go back to it for inspiration. Today I'm hoping to find time to sit at my craft table and do a bit of jouranling. And, of course spend a bit more time with Great Expectations – I am almost at the half way mark. Hope everyone enjoys a relaxing day!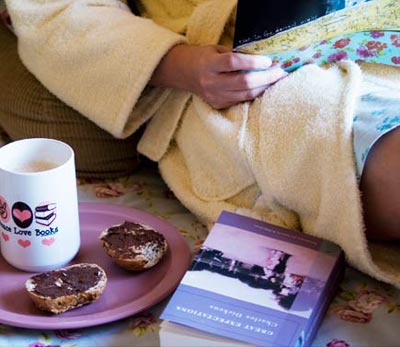 Me, relaxing on Sunday morning.