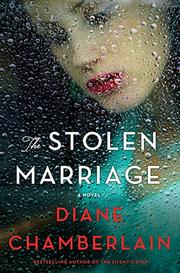 "It's a terrible feeling, being despised. From the moment I set foot in Hickory, I felt the suspicion, distrust, and outright hostility of most of the people I met. Even my new sister-in-law regarded me with disdain."
The Stolen Marriage
By Diane Chamberlain
Source: Advance review copy
It's 1943 and Tess DeMello's world is centered on getting her nurses license and marrying the love of her life but Vincent has left Baltimore for a temporary physician assignment in Chicago. She realizes that this is for his career and is patiently waiting and dreaming of the day when they can work side-by-side but the weeks turn to months. When her best friend suggests that they go to Washington, D.C. little does Tess know that this trip will change the course of her carefully laid-out plans.
Tess leaves her hometown and goes to Hickory, North Carolina to marry Henry Kraft, the town's most eligible bachelor. She is willing to make the best of their situation and Henry seems like an honorable man but his kindness is about the only she'll receive. His family, who they'll live with for a while, is less than thrilled at having her in their home. They don't know what to make of her with her dark looks, Italian background and Catholic faith.
There are confrontations because Tess is not willing to lose all of herself as she is determined to still pursue her nursing career. Her husband at time seems like a man of many secrets and she doesn't know if they'll ever have the kind of love she's dreamt of but all she can do is think of the future and try not to think too much of all that she's lost.
When a polio epidemic hits the town, everyone must pitch in to help. Tess will be able to put her nursing skills to good use and at the same time confront the past.
I really enjoyed this novel. I thought the author did a great job of giving the reader a sense of place and showing what it must have been like for women forging a path for themselves and how costly it was for a woman to make one mistake. What I didn't like as much was the ending. I just felt like the actions weren't true to the main characters and I was a bit disappointed by that. Still if  you enjoy women's fiction and family dramas I would recommend this one.