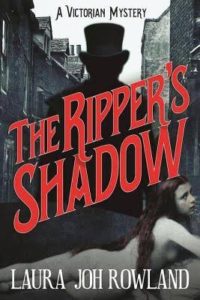 "The East End of London is dangerous even by daylight, and I am a solitary woman abroad at four o'clock in the morning. It is Friday, 31 August 1888, and I have come out to photograph the sunrise over the river Thames."
The Ripper's Shadow
By Laura Joh Rowland
Sarah Bain has kept the photography studio her father left her in business by taking "boudoir" photographs of women, mainly prostitutes. She knows that if she's caught she faces prosecution for taking such photographs but she is a woman on her own and this is the only way she knows how to survive. However, the women she's been photographing are now turning up dead and Sarah fears for the other women she's photographed.
As she tries to find out more about the murders she ends up being a person of interest herself and has to keep one step ahead of the police. It's hard to do when she finds herself intrigued by a handsome police officer. Sarah's life is rapidly changing. She's mainly led a solitary existence but now she is befriending others who may help her. Well, some of them  first started off as adversaries, as is the case of Mick. The scrappy kid took off with her camera equipment but luck was on her side and he returned her items and in the end the pair learn to rely on each other.
The more Sarah tries to connect the crimes to the killer and alert the women to take care, the more she and her friends are at risk. There are many Ripper mysteries so why do we need another? Well, I hope you give this one a chance. The atmosphere the writer creates makes you feel like you are walking along the dangerous streets of Whitechapel. The characters are complex with insecurities and fears. Most of all I enjoyed that this is a fresh take on the Ripper story.
I liked seeing the events unfold with the main protagonist being an independent woman. Sarah makes for a great character and I'm happy to see that this is being turned into a series. If you are new to Rowland's writing I also highly recommend her Sano Ichiro series which unfortunately I've fallen a bit behind on but those also bring to life another exciting time in history.
Source: Advance review copy