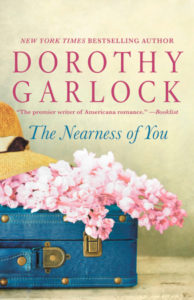 "She'd spent countless hours staring out the window at school, lying in her bad late into the night, walking down Main Street, and sitting in a church pew, daydreaming about other places. Lily had tried to imagine the bustling crowds of a big city, the quiet solitude of a farm or a windswept coastal town… Instead, she never left Hooper's Crossing."
The Nearness of You
By Dorothy Garlock
Lily has longed for another life but ever since she was little, her over-protective father has made sure that she stays close to home and stays put in Hooper's Crossing. When the book opens Lily almost dashes off to New York City with her best friend but ultimately decides to stay behind, thinking to herself that maybe her life will always be in Hooper's Crossing.
Meanwhile for photographer, Boone Tatum, his work at Life magazine has taken him around the world. He is willing to take risks to get the right shot but one bad judgement too many and now he is sent on assignment to Hooper's Crossing to cover the Harvest festival. He even has to take an eager but still wet around the ears, writer with him.
Boone is sure that he can take a enough pictures and be out of the small town in a couple of days and finally get his career back on track capturing the next amazing shot. What he doesn't count on is catching a glimpse of the beautiful Lily. The two immediately hit it off after a chance encounter and Boone now thinks maybe he needs more than a couple of days in town to woo Lily. Throw in some danger to boot and you have the two main characters facing a lot of important issues in a few days time.
This was a light romance with some great descriptions of life in a small town in the 1950s. While I enjoyed the storyline and both characters there is one major quibble I had with their relationship which just didn't seem to fit in with the timeframe this was set in. I don't want to say more for fear of spoiling it but if you've read this I would love to hear your thoughts.
Source: Advance review copy