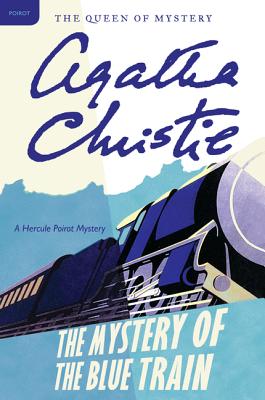 "It was close on midnight when a man crossed the Place de la Concorde. In spite of the handsome fur coat which garbed his meagre form, there was something essentially weak and paltry about him. A little man with a face like a rat. A man, one would say, who could never play a conspicuous part, or rise to such a conclusion, an onlooker would have been wrong. For this man, negligible and inconspicuous as he seemed, played a prominent part in the destiny of the world."
The Mystery of the Blue Train
By Agatha Christie
The story begins with the purchase of some exquisite rubies by Mr. Rufus Van Aldin. The wealthy American is going to give these to his only daughter Ruth Kettering. Ruth's life may be filled with all the things that money can buy but she's fed up with her husband. At her father's urging she decides to divorce Derek.
Derek doesn't want to lose Ruth because he's dependent on her money but his mistress, the flamboyant dancer, Mirelle, thinks that finally they can be free to be together. For his part, Mr. Van Aldin has offered Derek a nice sum of money if he'll agree to the divorce, but Derek is not going to be bought off so easily.
In a separate plot, Katherine Grey is introduced. She's a British woman who's always worked hard and has suddenly come into an inheritance. She decides to travel and boards a train bound for the south of France. Her path will cross Ruth Kettering's and before she knows it, she'll be a witness in a murder investigation.
Ruth Kettering is found murdered in her train compartment and her precious rubies are missing. Witnesses claim to have seen Derek and Mr. Van Aldin engages the help of the Belgian Detective Hercule Poirot and soon the murderer will be unmasked.
Unlike many modern mysteries where the character of the detectives is just as important as the crime solving I thought it was interesting that in this mystery the famous Inspector Poirot does not make an appearance until the crime has been committed and I never felt like he was the center of the novel.
One aspect I really enjoyed about the mystery is that there is no grisly scene and yet it is still shocking and sad really. Ruth may not have been a perfect wife either but she didn't deserve the fate that awaited her. It makes me think about a lot of new mysteries where the writers sometimes seem to be on a quest to write the most gruesome scenes when what I really need is great characters, a complex mystery and fine detection skills.
I read this one for the Vintage Mystery Bingo Challenge and already I look forward to discovering more gems from the Golden Age of detective fiction.
Source: Personal copy