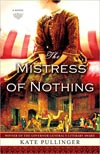 "The truth is that, to her, I was not fully human. I was not a complete person and it was this thought, or rather, this lack of thought, that compelled her, allowed her, to act as she did. She loved me, there's no question of that, and I knew it and had felt secure in it, but it transpired that she loved me like a favored household pet."
The Mistress of Nothing by Kate Pullinger
Based on the real lives of Lady Duff Gordon and her maid, this novel invites the reader to imagine what life was like for a maid in Victorian England. Sally is a lady's maid and is lucky to have a mistress who is nice and good to her. In return Sally's life is in the hands of Lady Gordon. When she must leave England and her family behind to recuperate from tuberculosis, Lady Gordon's only companion will be Sally.
Sally feels like her life is about to open in many different ways when she finds out they must travel to Egypt. Seeing a new scenery, tastes and even learning a new language all engage her mind and senses. She thrives in the new environment and notices that Lady Duff is also reaping the benefits of being away England. The two begin to form a relationship that is more relaxed and less one of mistress and servant, why they even share meals together.
Egypt is a good place for Lady Duff Gordon too. Her health is improving and while she may be away from society in Egypt she also has her fair share of callers and even engages in political discussion despite her just being a woman. Of course for Lady Duff it is still hard to be away from England, her husband and her children. Yet, days turn to months and her and Sally have a new life now.
Aside from a life filled with more freedoms than she could have ever imagined, Sally is also beginning to fall in love. She notices the intelligence and kindness of Lady Duff's interpreter, Omar, and the two begin a relationship without telling Lady Duff. Sally is under the impression that certainly everything will be alright when Lady Duff finds out but a bitter truth awaits her.
While I'm not sure how much is real or not in the novel, I can say that I was not surprised by the relationship dynamics between mistress and servant. I didn't blame Sally at all for feeling like things had changed after everything she had gone through with her mistress but in the end, she was simply a servant. Actually if anything it was just sad to read about how Sally had lived with very few aspirations given her situation and all of a sudden a new world opens to her only to be snatched away again.
If you are in the mood for an enjoyable historical read give this award-winning novel a try.
Source: Advance Review Copy