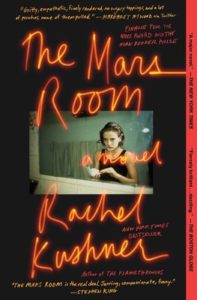 "Chain Night happens once a week on Thursdays. Once a week the defining moment for sixty women takes place. For some of the sixty, that defining moment happens over and over. For them it is routine. For me it happened only once. I was woken at two a.m. and shackled and counted, Romy Leslie Hall, inmate W314159, and lined up with the others for an all-night ride up the valley."
The Mars Room
By Rachel Kushner
Source: Advance review copy
Romy Hall is on board a bus to Stanville woman's Correctional Facility where she will serve two consecutive life sentences. She used to work as a stripper at the Mars Room and it is there that she met Creep Kennedy who'll became her stalker. She tried to get away from him and focus on her child, Jackson, but it was all for nothing. He still came at her and after a horrible encounter she is now put away.
There are other points of view in the narrative but the most interesting one is of Gordon Hauser an English teacher employed at the prison. He is often used by the students because they think they'll be able to get something from him. Romy also tries to get on his good side if only to find a way to contact her son.
Romy for all her faults did not deserve to be in the situation she is in but how her life went completely sideways is tragic and just like it happened to her there are many others who end up in the system with no hope to turn their lives around.
This is not going to be a pleasant story but it's one that will make you think about the prison system and the people that find themselves in it. The author doesn't make excuses for her characters but still moves you with their stories. I found myself feel compassion and discomfort over the situations and was impressed by this novel.