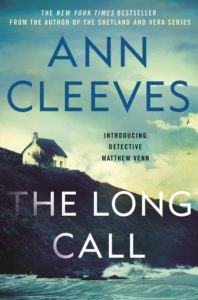 "The day they found the body on the shore, Matthew Venn was already haunted by thoughts of death and dying. He stood outside the North Devon Crematorium on the outskirts of Barnstaple, a bed of purple crocus spread like a pool at his feet, and he watched from a distance as the hearse carried his father to the chapel of rest."
The Long Call
By Ann Cleeves
Source: Advance review copy
Inspector Matthew Venn is called to the scene when the body of Simon Walden Is found stabbed to death on the beach. Tracking down lines of inquiry keep pointing Matthew to the Woodyard, a local community arts center, which also happens to be run by Matthew's husband, Jonathan.
Simon was volunteering at the Woodyard and living at the home of two other women who also had ties to the center. He was also becoming friends with Lucy Braddick, one of the adults with down syndrome who spent time at the center.
It seems Simon was fleeing from his painful past but what was his connection to Woodyard and what was he after? The stakes are raised even higher for Matthew when another woman from the community is abducted.
Matthew is skilled Inspector but at the same time he is vulnerable and that's most evident in his interactions with his mother. He may be held in high esteem by his peers but is still looking for acceptance from his family. Along with Matthew, there are several other characters who serve to make this a fine start to a new series by the author.