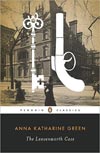 "I had been a junior partner in the firm of Veeley, Carr & Raymond, attorneys and counselors at law, for about a year, when one morning, in the temporary absence of both Mr. Veeley and Mr. Carr, there came into our office a young man whose whole appearance was so indicative of haste and agitation that I voluntarily rose as he approached, and advanced to meet him."
The Leavenworth Case
By Anna Katherine Green
What Mr. Raymond finds out is that the well-known Mr. Horatio Leavenworth, client of the firm, was shot and murdered in his library. To complicate matters the crime of the wealthy Mr. Leavenworth confounds the coroner. There was no one in the house, save two nieces, and the door was locked.
The coroner quickly sets one of the Leavenworth nieces as a prime suspect given that some clues point in her direction. Which of the nieces, Mary or Eleanore, had more to gain by his death? Mr. Raymond tries his best to offer his support but one has to question how objective he can be when we know that both ladies are beautiful and alluring. Could he perhaps fall under a spell?
Mr. Raymond isn't alone though as Detective Ebenezer Gryce enters the scene to examine the details of the murder. In the tradition of mysteries past, this book has a couple of diagrams to further help the reader acquaint themselves with the scene of the crime.
There is a wonderful ambiguity that arises as we find out more about the nieces and what each one has to hide. I like how you turn the pages and not know what you'll find next or if you'll keep trusting a particular character.
What perhaps was a bit surprising to me about this novel was how little I felt like I got to know Detective Gryce. This novel was published in 1878 and essentially introduced the first American detective series. Yet Detective Gryce seems to be in the background. He makes his observations, he offers his advice but the whole time I felt it was Mr. Raymond who was the one to unravel the details.
I'm glad that Penguin Classics has reissued this novel and I would certainly enjoy reading about another of Mr. Gryce's cases. Did you know that the author is often referred to as "The Mother of the Detective Novel" and that this book was a 19th Century bestseller? If you are a mystery fan you should add this one to your bookshelves.
Source: Personal copy