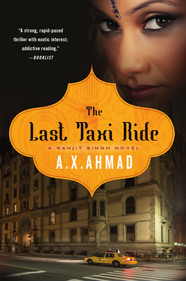 "August in New York City. the place is a ghost town, thirteen thousand cabs desperately roaming the streets in search of a fare. Ranjit Singh sees the woman in the white dress waving at him from the other side of Broadway and swerves his yellow cab across a lane of traffic."
The Last Taxi Ride
By A.X. Ahmad
Ranjit Singh is back in the sequel to The Caretaker. He has left all of turmoil he found on Martha's Vineyard for the opportunity of a fresh start in New York City. He spends most of his time working so he can afford to bring his daughter from India to live with him.
While once he was an officer in the military in India he now has to deal with drunken passengers, frustrated businessmen and all sorts of people he picks up in his cab but he can't believe his eyes when he picks up the once famous Bollywood actress, Shabana Shah. After he drops her off at her apartment he realizes she has left a shopping bag behind and thinks that'll be the perfect excuse to meet her again.
Before Ranjit can meet Shabana again to return the bag, news that Shabana was murdered is making waves through the Indian community and two New York policemen are hauling in Ranjit as there are witnesses he was in the apartment. Unfortunately his alibi, his former army friend who is also the bellman at Shabana's apartment, has disappeared and Ranjit needs to find a way to prove his innocence.
The author uses flashbacks and alternating viewpoints so that the reader gets to know Shabana and what led to her stardom and unfortunately her demise. Not only do we see the world of film making, Bollywood style, but there is also special attention to creating a very vibrant city in which Ranjijt dwells. While reading you can almost taste the flavorful foods from the noodle shops and hear the shouts hailing cabs. Wonderfully descriptive and with excellent attention to details.
I'm looking forward to seeing how the author will wrap up this trilogy in the next book.
Source: Library copy