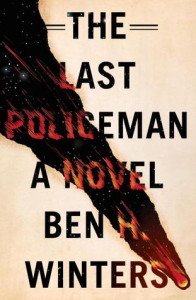 "I'm staring at the insurance man and he's staring at me, two cold gray eyes behind old-fashioned tortoiseshell frames, and I'm having this awful and inspiring feeling, like holy moly this is real, and I don't know if I'm ready, I really don't."
The Last Policeman
By Ben H. Winters
Detective Hank Palace is on the scene at a McDonald's after the body of Peter Zell, an insurance adjuster,  was found in the restroom. The initial investigation suggests suicide but Detective Palace thinks there is more to it. Except how does he conduct an investigation when most people are concerned about the big event happening in six months.
You see, Asteroid 2011GV1 is headed towards earth and no one cares about solving murders anymore. Everyone is either out to fulfill their own personal bucket-list or is too stunned to care. Society is slowly spiraling out of control with shortages of fuel and government services. Some people have turned to religions others to drug or many are simply not waiting for the asteroid and commit suicide instead.
Detective Palace simply won't let this "suicide" go because he is sure there is more to it. His investigation puts him and those around him in danger and on top of this he is also trying to help his sister find her husband. It is almost too much but Detective Palace is a good person, an honorable person and he owes it to those he loves and his profession to find justice.
This was such a unique premise and I can understand why this book was the winner of the 2013 Edgar Award for Best Paperback Original. The world is coming to an end and what do you do? Do you care about doing what's right? Do you want to just live in the moment? I'm very much looking forward to the next book in this trilogy.
Source: Library copy